5 Truly Weird and Wonderful Hotels of the World
|
Choosing hotels when you travel on vacation is usually a pretty standard affair. You usually choose the offer that offers the greatest amount of comfort for your available budget. Sure, that makes perfect sense, but can't that sometimes get a little, well, boring?
We've searched the internet high and low for some of the weirdest hotels in the world. In all honesty, we had to check and double check that these were in fact real hotels, and someone wasn't just pulling our leg. So without further ado, here's our 5 of our favourite strange hotels.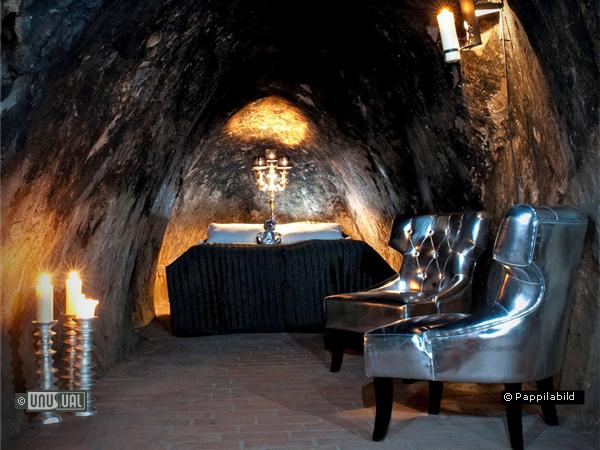 Spending the night in a mine might sound like more of a punishment than a holiday, yet the Sala Silvermine in Sweden has been renovated in recent years, incorporating a number of premium suites in the underground shafts. You will take part in a tour of the mine network, where your guide will leave you in your suite for the night with refreshments and candlelight. You'll have a comfortable double bed, but it's up to you to provide the entertainment! Your guide will pick you up in the morning and escort you back up to ground level.
We can honestly say that we've never seen nor heard about a hotel quite like this before. CasAnus is the creation of Belgian artist, Joep Van Lieshout, and you guessed it, it's a sculpture of the human digestive system, complete with anus.  The main intestine comfortably sleeps two people in the double bed, and the room comes with electricity supply and separate bathroom.
The hotel is located in a sculpture park, making the ideal location for anyone in search of an art-filled break in the beautiful Belgian countryside.

If you like a bit of peace and quiet on your holiday, this is probably just the ticket. In the middle of Lake Maralen, in the beautiful heart of Sweden, the Utter Inn can be found afloat. At first glance, it looks nothing more than a floating shed, yet the structure actually has a sleeping quarter beneath the surface of the water. Complete with panoramic views of the, well, water, the cabin can sleep 2 comfortably.
Your guide will transport you approximately 1km from the shore by boat and leave you alone for the duration of your stay. If you wish to explore the area, there is an inflatable kayak that can be used by guests.
This hotel does exactly what it says on the tin. Only in Holland will you find a crane that's been converted into a swanky hotel. Located in the heart of the Harlingen docklands, The Crane has recently received a lot of love and attention, to transform this one operational dockside crane into a near luxury hotel. The ladders have been replaced with elevators and the operation room has been turned into a spacious double bedroom. This is a little touch of engineering and design genius, not to mention, a unique hotel experience!
This is the world's biggest (and probably the most impressive) ice hotel. Made entirely from ice and snow and rebuilt every winter with a new design, IceHotel has set the benchmark for ice hotels around the world. A night in the hotel doesn't come cheap, but this is an experience that will stay with you for a long time. It's highly advisable that you take your thickest pair of socks as rooms are usually at around -5 °C.
Around 150 artists apply to design the hotel suites, and this really shows with the sheer beauty and detail of each and every room.